Press and move to zoom.
Mouse over image to zoom.
Arkwright
Product Code:CSGARK01

In Arkwright players run up to four factories in England during the late 18th Century. Your goal is to have the most valuable block of own shares. Thus, you must increase your share value and buy shares from the bank.

To run the factories, you need workers. When hiring Workers, demand is automatically created. But of course you want to replace your expensive workers (wage 2-5) by machines (1). To have more output from your factories you may employ new Workers or improve your factory to the next technical level.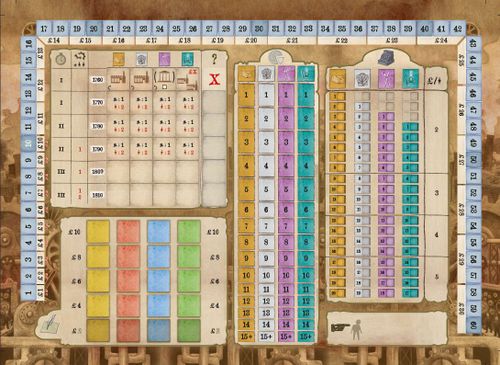 You fix the price for your goods during an action round. To enhance your chances of selling goods, you improve your factories to higher levels, increase the quality and make some sales promotion. The higher these factors, the better are your chances of success - the higher the price, the lower.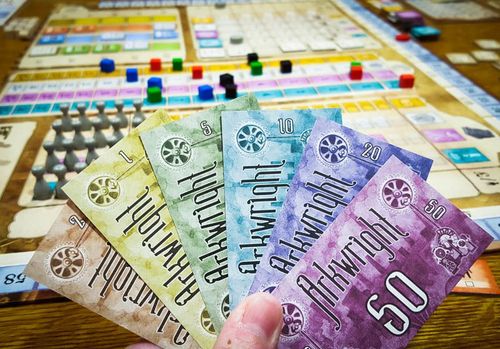 Arkwright allows you to act in different ways. Run all four factories with most possible output, set the focus on only two factories and improve them more than the others can; use shipping to colony or focus on the home market. In any way you have to react to the opponents and their strategy. Enter markets with deficit in supply or give up business where the other players start to push you out. Buy shares when they are cheap and increase the value, or first make money and buy shares later. Run the most profitable factories, and push your competition out of business in this one of a kind factory tycoon game!

Now includes 80 custom wooden Factory Goods tokens! The Factory Goods represent the four different types of goods a player can create with their factories in the game: Food, Clothes, Cutlery, and Lamps.

Designer :

Stefan Risthaus

Artist :

Harald Lieske

Number of players :

2-4

Playing time :

120-240 minutes

Recommended ages :

12+